A MUST FOR THE HONG KONG MOVIE LOVERS!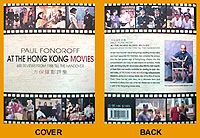 Paul Fonoroff at the Hong Kong Movies-
600 REVIEWS FROM 1988 TILL THE HANDOVER
Code: BK0005
Price: US$25
Mr. Paul Fonoroff is one of the leading movie critics and most respected film historians in Hong Kong. This book is a collection of his reviews of Hong Kong movies starting from 1988 to 1997. It gives you a unique, inside view of the films of Jackie Chan, Chow Yun-Fat, John Woo, Jet Li, Michelle Yeoh and hundreds of others. Each review is also preceded by capsule credits in both Chinese and English which is especially useful in searching information about your beloved Hong Kong movies.
TWINKLE is now selling it at HK$185.00 (Book Cover Price!) or US$25.00 (shipping & handling add HK$70.00 or US$10 for the first book and please ask for the charge for multiple orders)
P.S. This book is written in ENGLISH.